Marketing and promotions can be a challenge for small to midsize-hotels and resorts. Which goals should you be prioritizing? Which channels are best for reaching your customers? Where do each of them fit into helping you achieve your goals? The big chains have big bucks that make it harder for the independent operator to compete.

Here are a few best practices as you're planning your marketing efforts for 2022.
What Goals Should You Have In Mind?
Heads in Beds
One of your primary goals for your overall marketing and advertising efforts for a hotel or resort will be driving bookings. While this is the ultimate goal, unless you already have high brand awareness, the cost to drive direct bookings can be high. A healthy channel mix is one that contains both direct and indirect bookings via third-party sites and travel agents. The exposure you receive from travelers actively planning a vacation is worth the margin you might give up with the indirect channels.

Invest in Good Photos and Video
Sure you can tell your prospective visitors that your hotel or resort is awesome, but good quality photos and video tell your story even better. Not only can you use your new assets on your own website and social channels, but you can also upload them to the indirect third-party booking channels noted above. And don't forget to include people in your photos and video. Not everything requires a professional model, but you also don't want your property to look like a ghost town.

Driving Positive Reviews
And while photos and videos are important, reviews outrank everything. When prospects are considering whether they want to stay at a hotel, especially when that hotel isn't part of a hotel group they're familiar with, reviews play a critical role in their decision. Reviews also have secondary benefits, such as helping you rank higher in searches on platforms like TripAdvisor, where you can even unlock free advertising if you are a top reviewed hotel in your city.
Where Should You Be Advertising?
TripAdvisor
TripAdvisor is the world's largest travel community, with more than 290 million unique visitors monthly. An astounding 280 traveler reviews are submitted to the site every minute! A ComScore study found that 79% of buyers who visit TripAdvisor take longer than four weeks to complete their purchase, and buyers who use TripAdvisor are considerably more active during their path to purchase than those who don't visit TripAdvisor.

Essentially, if a prospect hasn't made up their mind about where they're going to be staying for their trip yet, they're very likely to visit TripAdvisor as part of their decision-making process.
So, what can you do to make sure that you're leveraging TripAdvisor effectively?
Encourage guests to leave reviews about their experience. You can also request a free TripAdvisor sticker.
Take advantage of TripAdvisor's Sponsored Placements ads to be featured prominently when people are searching. TripAdvisor also has a CPC (cost-per-click) advertising option called TripConnect CPC, where you only pay when prospects click on your rates.
Set up instant booking to allow prospects to book directly through TripAdvisor to streamline the process and close more bookings.

Social Media
Social media is key for helping prospects understand what sets your boutique hotel apart from the competition. Carousel and video ads provide opportunities to show off what makes you unique, from common areas, amenities, and more.

Established channels like Facebook Ads and Instagram Ads (also managed in the Facebook Ads platform) are a solid place to start, though there are also opportunities to experiment with other channels such as TikTok (for experimental video content) or Reddit Ads (for finding highly granular interest communities).

You might find some prospects who are ready to book right away through social media campaigns, but it's not the best approach. Instead, social media is most valuable for driving awareness and interest so that prospects will want to stay with you the next time they visit your city.

Paid Search
Google Ads offers a product specifically for hotels, which can help your boutique hotel show up more prominently for travelers actively searching for a place to stay.

If you've ever seen an ad while searching for hotels on Google, then you've seen Google Hotel Ads in action.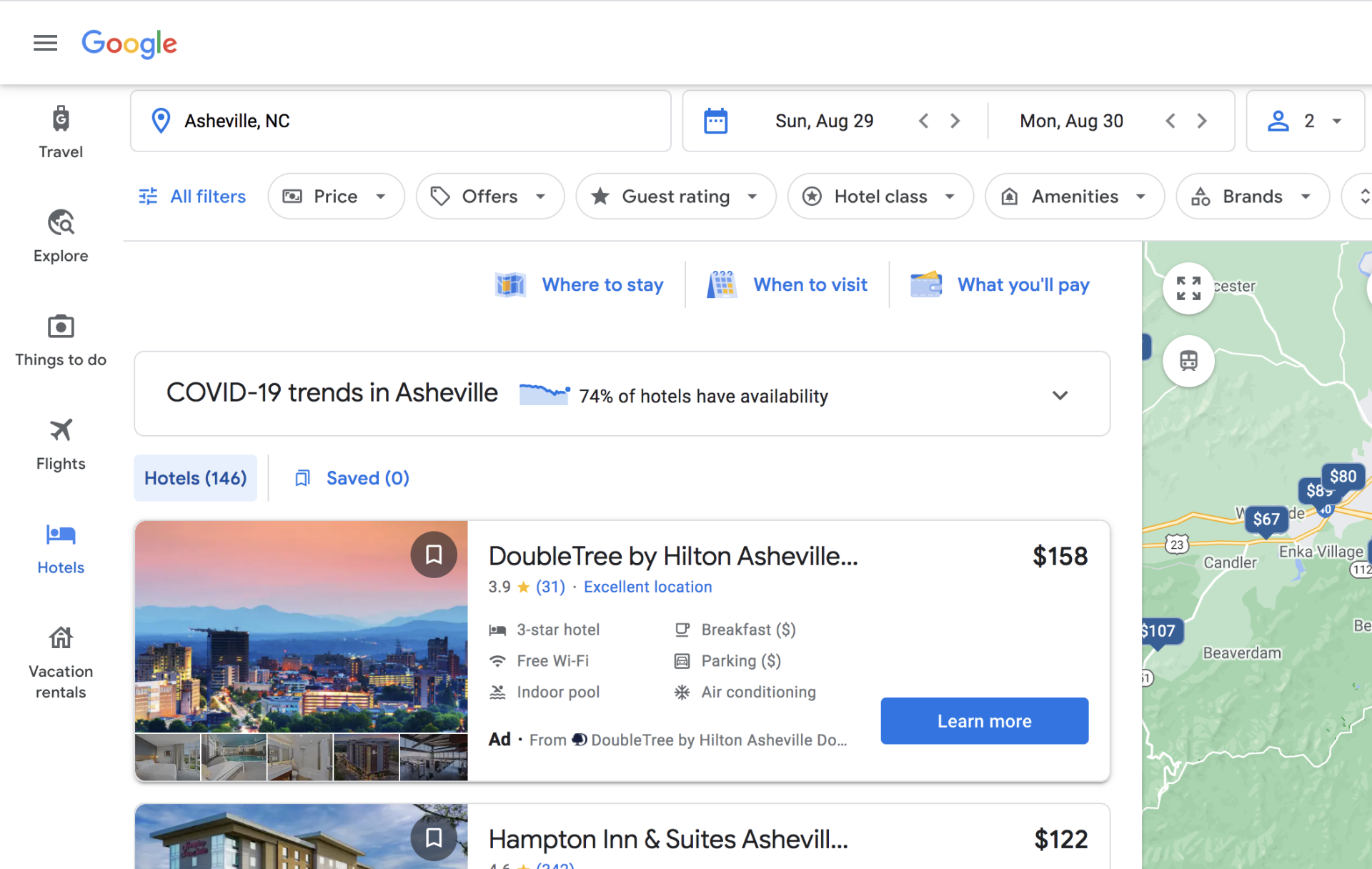 Paid search advertising is an effective way to secure bookings, as you're serving ads to prospects who are actively searching to book a room in your city right now. They've even entered the dates that they're looking to book. With Google Hotel Ads, your ad only displays for dates that you have availability and you only pay when a traveler selects your room rate, so you're not wasting ad budget on unqualified traffic or on travelers who are searching for dates you're already booked at capacity for.

Search Engine Optimization (Organic Traffic)
While it's not a paid advertising strategy, SEO does provide long-term value for your brand. Qualified traffic that you don't have to pay to drive can help you reduce your spend on paid media in the future, or help you ramp up bookings without increasing your media spend.

Similar to paid search, prospects who are finding you via organic search are also more likely to be ready to book now, provided they found you through purchase intent-based keywords.

Email Marketing
You'll also want to stay top-of-mind with your existing customers. It's much easier to keep the business of a returning guest who had a memorable experience than it is to convert someone who has never stayed with you before.

Email marketing is a powerful way to stay in front of guests in the future, after your paid media strategies have secured the first booking. Create an automated email campaign to keep guests informed of seasonal promotions, upcoming events in your city, or other updates to keep your hotel at the top of their list for their next trip.
Next Steps
With some strategic planning – from prioritizing your core goals to identifying the best channels to reach your future guests – you can execute a successful campaign to support your hotel's business success and growth. If you're looking for some assistance in choosing the best channels and executing a successful marketing campaign, contact FUEL today.