How They're Different and Why You Need Both
As marketers, we're all familiar with the customer journey. Whether you look at it as a funnel, pyramid, infinity, or continuum, if you're approaching each phase with the same strategy, you're likely missing out on key components.
Demand Generation vs. Lead Generation: What's the Difference?
Demand generation and lead generation are terms that are often used interchangeably; however, while related, they're unique strategies that are needed to support one another to reach your growth goals.
While lead generation is all about getting people to convert by taking some type of action, demand generation is about building awareness and establishing a relationship in order to spark enough interest in your brand to take action.
In the B2B world, it can take up to 21 different touch points for a prospect to convert. Why? Because making any purchase involves emotions, thoughts to process, and "what if this goes wrong" fears before deciding to take the next step.
However, if they already have a relationship with and trust in a brand, that shortens the decision-making process and makes it easier for them to convert.
---
Demand generation is the key to breaking ahead of the competition and establishing lasting relationships with your buyers.
---
Start by building the relationship through Demand Generation
Demand generation is all about establishing a relationship with your potential customers by building credibility and trust over time and through consistency in your brand and its promises.
To accomplish building a trustworthy brand, you'll need an effective demand generation strategy using an integrated approach with the right mix of marketing channels to increase brand recognition. With consistent messaging, reach your target audience through news articles, blogs, your website, social media, videos, and industry or community events. Additional tools such as SEO, paid ads, or direct marketing can help reach prospective customers, generate awareness, and spark interest.
Then Convert them into Customers with Lead Generation.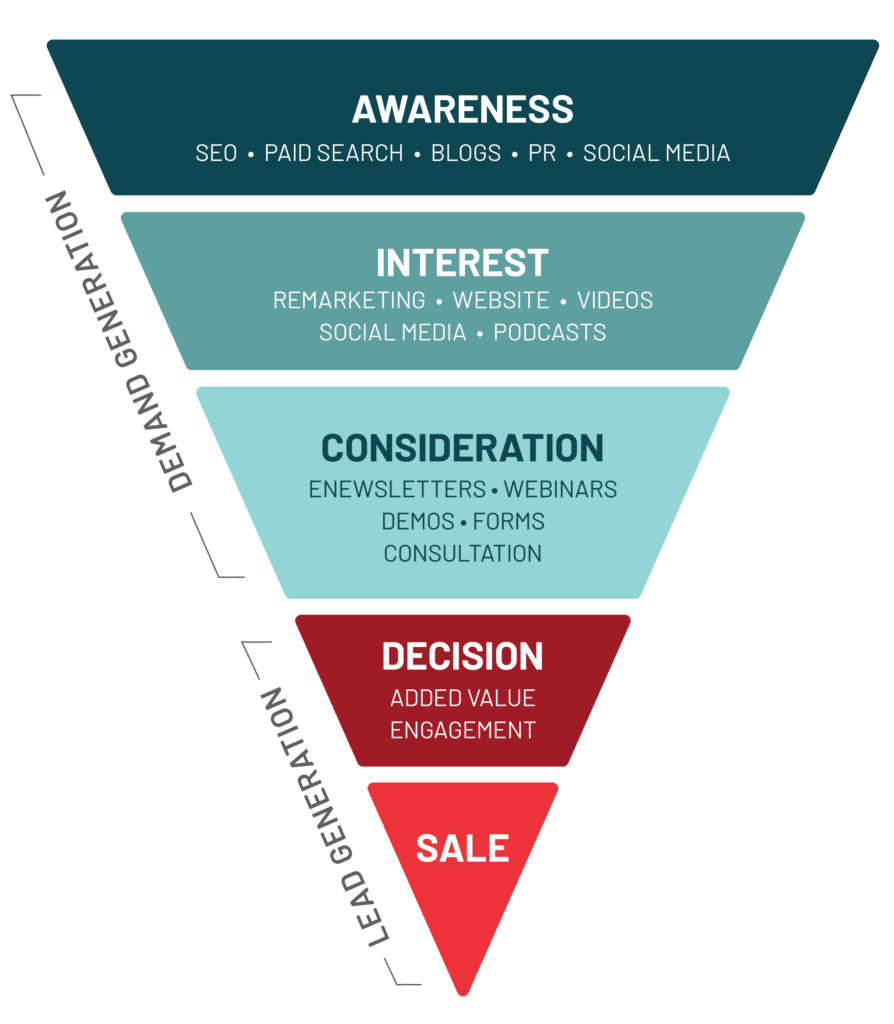 Once you've generated awareness and established trust, the prospect still determines when they're ready to convert. It's your job to be there every step of the way so that when they're ready, so are you. Here's where you find out their level of interest and get more direct with your calls-to-action.
Serve up remarketing ads to those who have shown interest by visiting your website or checked out your social media channels. Remind them why they were interested in the first place and ask them to take action. For example, offer up a transitional call-to-action, like a white paper or case study for more information. When they provide their contact information to download your content, they've converted. You've got a lead to continue nurturing into a customer.
That's how demand and lead generation work together. First, to create demand through awareness and relationship building. Then convert leads into customers by staying relevant, valuable, and top-of-mind.
Don't go it alone. FUEL can help.
From writing killer content to building a UX-focused landing page to designing an eye-catching ad — it's nearly impossible to handle all the needed elements on a small team. That's where FUEL comes in.
FUEL helps brands realize their full potential by igniting demand generation strategies that convert to real business impact.
Let's partner together.
---
FUEL has implemented a demand and lead generation strategy using SEO, blog articles, remarketing ads, and targeted search display ads to generate awareness for several clients, including Eagles Nest, a luxury development in North Carolina. The increased awareness resulted in nearly a 1000% increase in the number of leads year-over-year. More calls, inquiries, and form completions than ever before resulting in the sales team selling every available lot in the development and hitting record sales.