The Expedia Group is the leading collection of online travel agencies (OTAs) and meta travel brands in the world. From Expedia to VRBO to Trivago, their 20-plus brands engage more than 40 million travel shoppers across the world each month. They have collected a massive amount of first-party travel data over their 20 years, and savvy travel brands have leveraged their media platform to reach potential visitors and stand out to the competition. However, some may also be surprised at the wealth of knowledge the Expedia Group offers through its published, readily accessible research. Two studies recently caught our attention and we wanted to share our ideas on how travel and hospitality brands can take advantage of these valuable insights and apply them to their own travel and destination marketing strategies.
Overview
First, we want to answer: What inspires travelers to take a trip? What specific factors go into their decision of where to go and what to do?
Luckily for hospitality marketers, the industry is rich with research and resources to inform smart marketing decisions. Two studies that were recently published by the research team at Expedia offer a fantastic view into the traveler's decision journey and motivations – the two pieces of the puzzle that enable marketers to tailor their content and messaging and then target that message at the ideal time to influence the traveler's list of options in their favor.
The first study from Expedia is a partnership with Luth Research, called "Path To Purchase." They conducted a digital study and consumer survey in seven countries around the world: Australia, Canada, France, Japan, Mexico, and the U.K. and U.S. They uncovered some incredible opportunities from 5,713 respondents where advertisers can insert themselves into the planning journey that will impact travelers' decisions.
Combine that journey map with the results from the second study, "The 2023 Travel Value Index," and we learn specifically what types of experiences and exchanges travelers value. Now hospitality brands can curate messaging that speaks to what travelers are searching for at the right time to influence the traveler to consider them as a destination option. "The Travel Value Index" is conducted annually in conjunction with Wakefield Research and this year's study spans 11,000 adults in 11 countries.
Check out three key take-aways that savvy marketers can immediately apply to to their hospitality and travel marketing.
Three Key Take-Aways:
In the Inspiration Phase of travel planning, travelers consume a massive amount of content and they're more open to being influenced by advertising. So let the content flow! We promise it won't be batted away.
In a post-pandemic world, the importance of travel has shifted from self-indulgent to self-care. Travel has become more highly valued as a way to cope with the stress of everyday life.
Travelers are looking for the best return on investment. However, that doesn't mean travelers are only looking at price. 43% said their travel budgets are increasing in 2023 vs. 2022. But they are looking for the best "deal" in terms of overall experience.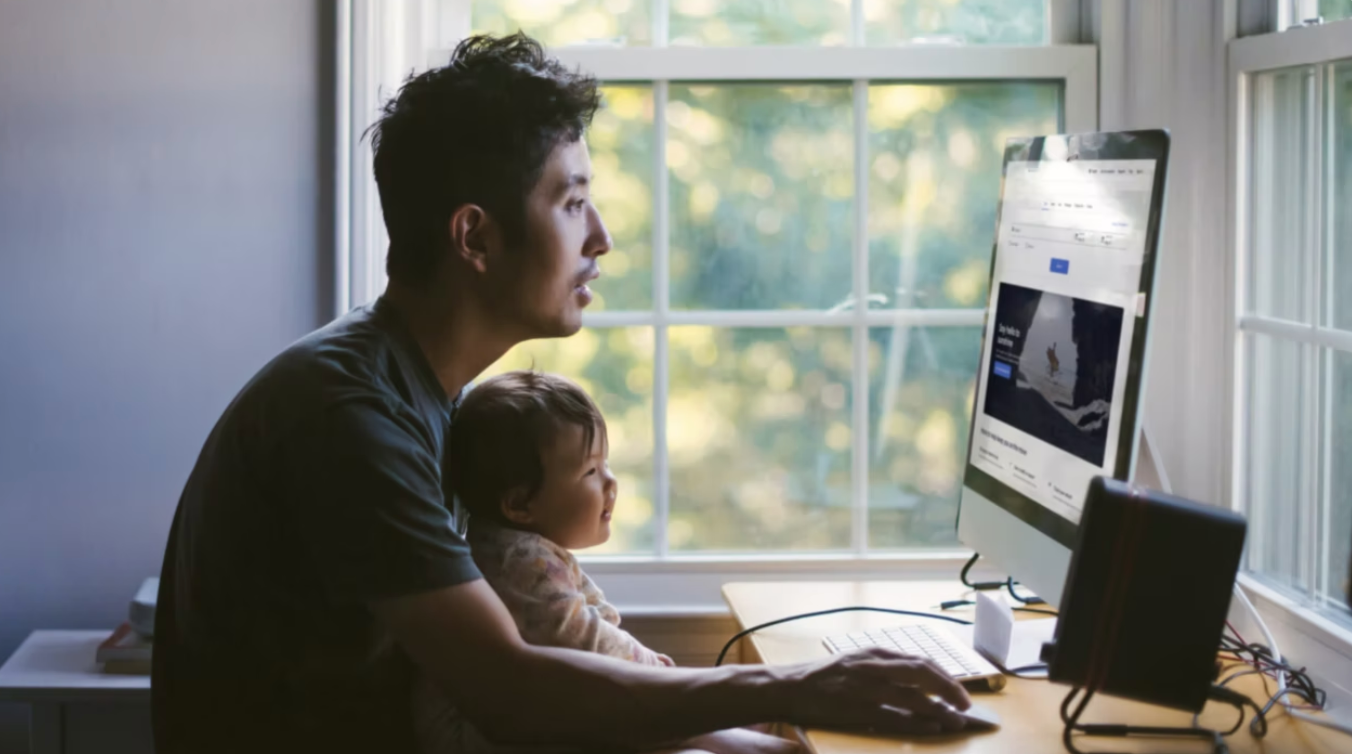 Travelers and the Inspiration Phase
"Before selecting where to go on their trip, 59% of travelers either didn't have a specific destination in mind or considered multiple destinations." – Path To Purchase
On average across the seven countries, travelers view 141 pages of travel content in the 45 days prior to booking a trip — and as high as 277 pages for travelers in the U.S. That equates to consuming travel content for a whopping 8 hours and 44 minutes throughout their path to purchase. (We must emphasize: That's a lot of content.)
The initial spark of inspiration is the first opportunity to influence travel decisions — a critical 33-day period, according to the survey data. So the question is: Since trip inspiration can come from anywhere, how can destinations and travel providers ensure that they break through and remain top of mind for travelers at this stage?

Among those travelers influenced by advertising, 67% recall noticing an influential ad during the inspiration phase. The study also identified social media as the most used channel during the inspiration phase – almost 80% vs. the destination website at 45%. It's important to strike on social while the traveler is receptive because the channels become more competitive in the research phase. Travel brands can create a social content strategy that includes both branded and user-generated content to best meet the travelers needs and expectations in this phase.
Producing content can be overwhelming for marketers, but the good news is quantity is not the answer. This study gives marketers great guides on how to specifically create content that has the highest impact during this critical phase and what your target audience wants to see, read, and hear from you. On to more insights.
Travel as Self-Care
No surprise, but travelers are still recovering from 2020's lockdown period. While reuniting with friends and family is still a top priority collectively, travelers are also looking to decompress.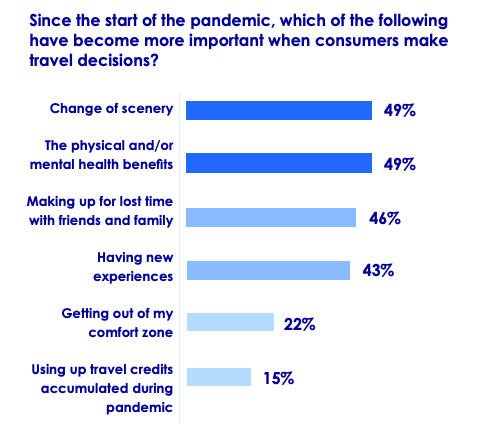 For travelers, "self-care" also means choosing an activity or destination that aligns with their personal values. They are looking for destinations that are inclusive, welcoming, and accessible.
"Nearly eight out of ten (78%) people say they have made a travel choice based on promotions or ads they feel represent them through messaging or visuals. For millennials, that figure is even higher — 84% have made a travel choice based on representation in advertising." – 2023 Travel Value Index
Interestingly enough, that self-care value also extends to the local economy and environment. Sustainable travel is still really hot, and sustainability has a broader definition than most marketers may think. Travelers aren't just looking to see if you recycle or have LED lighting; they want to know if your destination supports local businesses and can connect them with local communities and culture. If you offer sustainable options, activities, or amenities, make sure to let travelers know. And if you don't, now is the time to start to think about how to make a positive change in this area.
"Two out of three consumers want more sustainability information from lodging and transportation providers to help them make informed decisions — a clear opportunity for travel businesses." – 2023 Travel Value Index
Travelers and the Art of the Deal
From flexibility in dates and refundable bookings to creative value adds, travelers are shopping for the best return on their travel investment. Remember all those hours of content travelers are consuming in their planning journey? Online travel agencies (OTAs) account for nearly half of these page views. In fact, four in five travelers visit an OTA at some point before making a travel purchase, indicating that even if travelers ultimately book on another website, they likely visited an OTA for inspiration, research, or planning purposes (Path To Purchase Study).
Travelers still say price is the most important aspect of the purchase decision, but there is so much that goes into price. Refundability and flexibility if plans change are important, but so are other factors. Your traveler doesn't want to be nickeled and dimed. They want a destination that shows the outward appearance of being interested in them as a traveler (personal values alignment) and gestures of generosity (flexible rates, deals, complimentary offerings, etc.).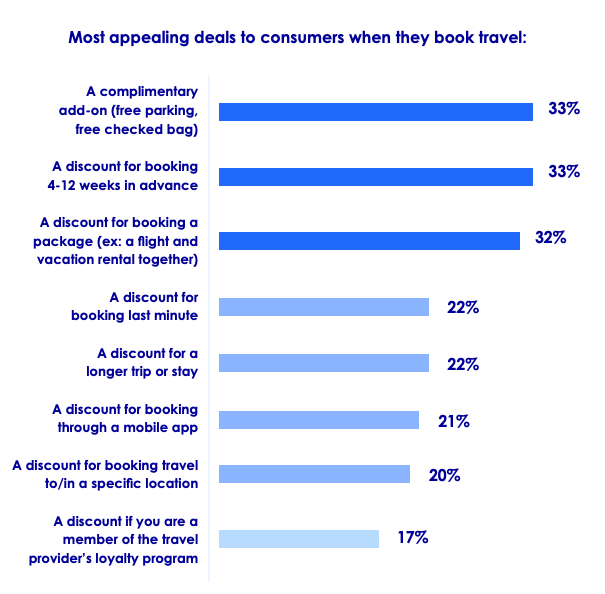 Conclusion
Pay attention to all the insights already at your fingertips.
Whenever you so much as THINK about planning content for your travel marketing or hospitality brand, take careful notes on what travelers are already telling you they want. Then create a content strategy focused on convincing that traveler of why they should pick you. Sell your experience, but also your "package"–all those thoughtful, little extras that push purchases over the line. Get inspired by best practices and
---
If you're curious how we can support your hospitality brand and travel marketing, let's have a real chat. We'd love the chance to help your brand reach its full potential.