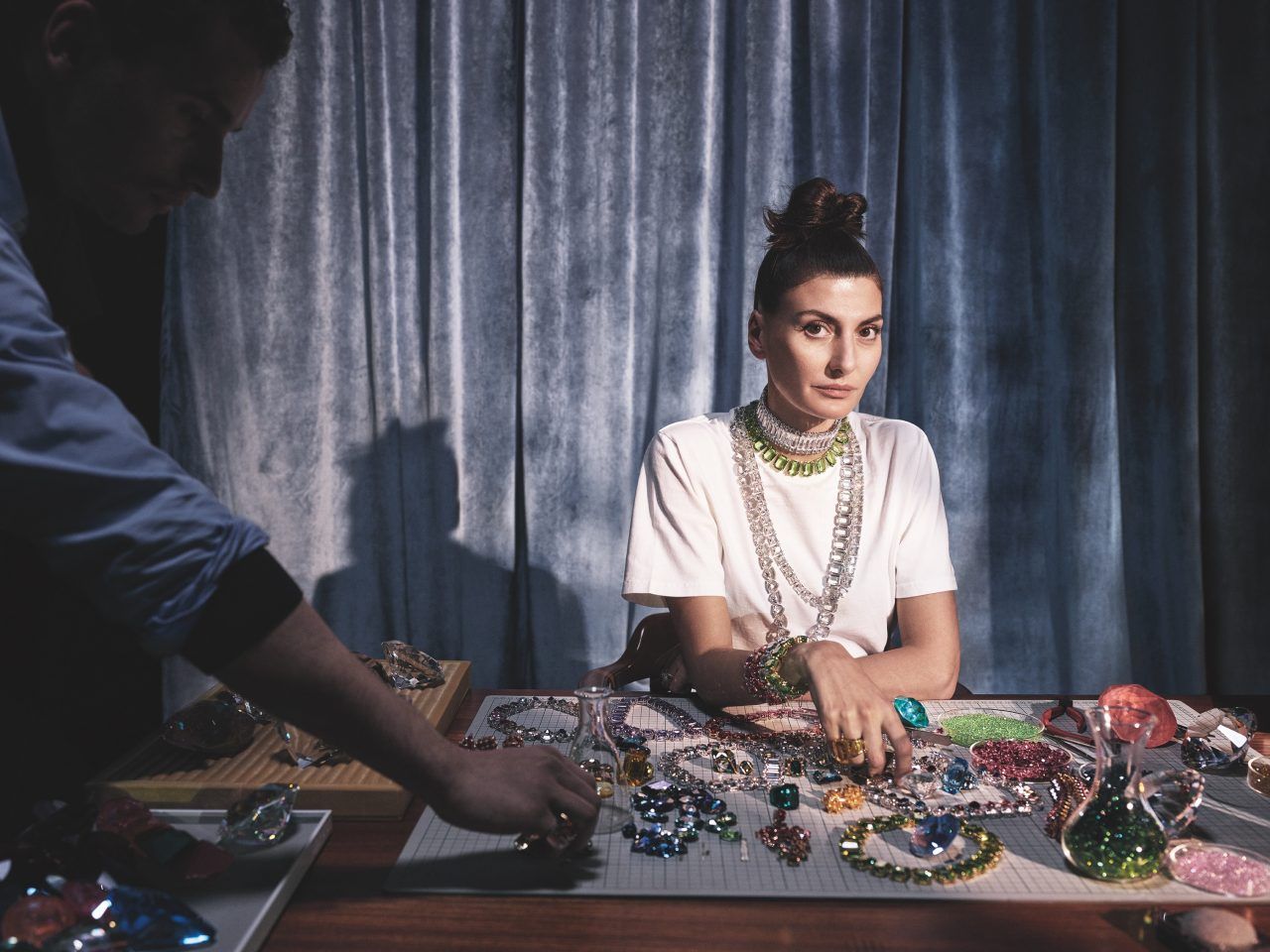 Photo: SWAROVSKI
A rebrand should be a rebirth.
I've been watching one in particular – Swarovski's – for the past several months, and since the final, final reveal, I cannot. Stop. Thinking. About it. While twirling my spaghetti. Zoning out mid-Zoom call. Flossing. Prepping my taxes. I only have eyes for crystals… with a new-ishly appointed creative director's touch: Giovanna Battaglia Englebert. The most stylish woman in the world.
About a year ago, I saw the announcement pop up on her Instagram page followed by thousands of "Auguri!"s from famous designers and the best-dressed celebrities. Swarovski, a very Austrian brand, had tapped Giovanna, a very Italian ex-fashion editor, as the legendary jewelry company's first ever global creative director. *Pops a bottle of prosecco* In a Vogue US interview, "Gio" described the feeling as if she had "won this Willy Wonka ticket, but instead of a chocolate factory, it was a crystal factory." I thought Good for you for winning a golden ticket in 2020, Gio. But… was it really a golden opportunity? I genuinely considered what Swarovski would do to Giovanna's brand.
Fully recognizing that Giovanna is known for her "More is GlaMORE" approach to life and fashion, and what has to be one of the most vibrant and approachable personalities in the industry, I couldn't help but wonder: Is this brand even worthy? And before that sounds melodramatic, I used to write Swarovski's press releases for the Middle East market, so retract the claws, I know what I know. But what I did not know was just how valuable and transformative one woman could be, or how, exactly, she would lead the 125-year-old crystal icon by the hand into the 21st century. NO ONE COULD HAVE KNOWN. Or better yet, imagined. 
THE VISUAL IDENTITY: "Poised to take flight."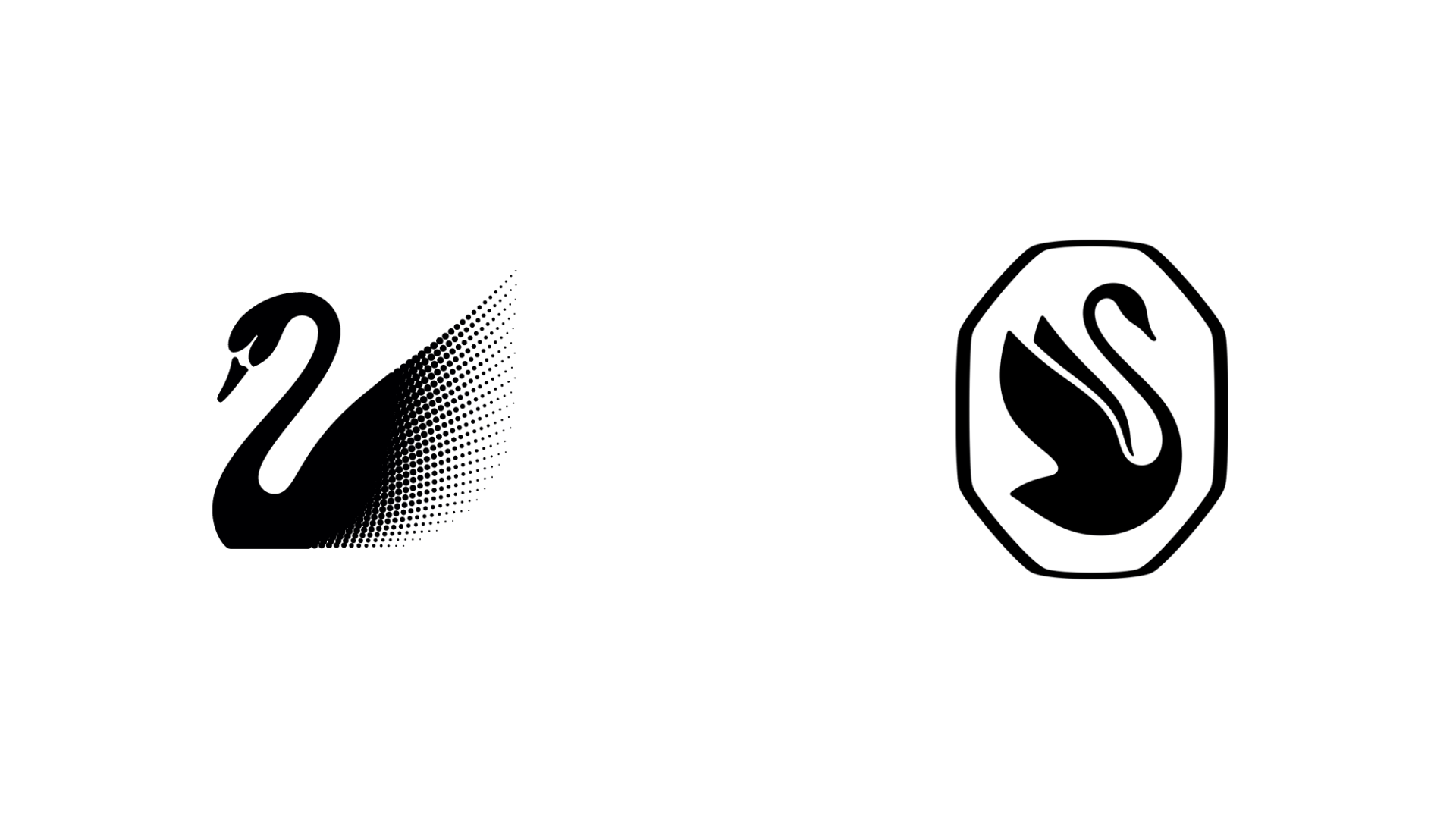 Photo: UNDERCONSIDERATION.COM
Partnering with New York agency General Idea, Giovanna and a small in-person team broke ground on the new brand identity last summer. First up for review, that iconic swan logo. Never updated in the 30+ years since it was created, the new team hoped to reimagine the logo with the help of a few principles: "Meet the needs of an evolving world" by tapping the brand's roots of innovation and reinvention–roots completely buried in the previous artistic direction. So to change the brand's trajectory, the team literally changed the swan's direction: from a rear-facing swan to a pared down future- (and customer-) facing swan, framed by a "candy-like octagon wrapping," which the brand explained is "a nod to a faceted crystal, evoking the unrivaled craftsmanship of Swarovski's master cutters." 
In Giovanna's own words, the new design embodies "the beauty of nature and the power of eternal love. Our reborn Swarovski Swan appears inside a crystal octagon, symbolizing the master craftsmanship of our artisans and the mythical power of new beginnings. A bold evolution of our iconic emblem, it celebrates both our unrivalled heritage and our exciting vision for the future." OOF. Tell me more.
From the agency perspective, Ian Schatzberg, the founder of General Idea, offered his own thoughts to illuminate the process. Quoted on Morning Brew , he said transforming the logo posed two considerations: 1) "The role of motion. How does a logo animate? How does it come to life?" and 2) "Logos are now vessels for lots of different branding moments."
"When we look at the actual octagon [framing] the swan, you will see the octagon reveal itself in many different facets of the business, almost as a framing mechanism for other sorts of content, but that often doesn't include the logo in it, because we [don't] want to think about the logo as…a fixed form." And the Swarovski font? "If you look at other luxury brands which have taken a much more modernist approach—going to much cleaner sans serifs—we deliberately did not go that direction."
Personally, I love the iterations of the logo. How sometimes it's a solid, multi-faceted crystal, sometimes a "mosaic" of crystals in a spectrum of colors, sometimes a solid graphic or a neon sign, sometimes in motion, sometimes… I just love that it's alive. It will and can so easily take on different lives in different environments. Which is a quality that seems to carry through to every other brand touch point. But before I touch on those, it's important to know how this brand rebirth unfolds from a story point of view, especially online. Without further adieu: Welcome to Wonderlab.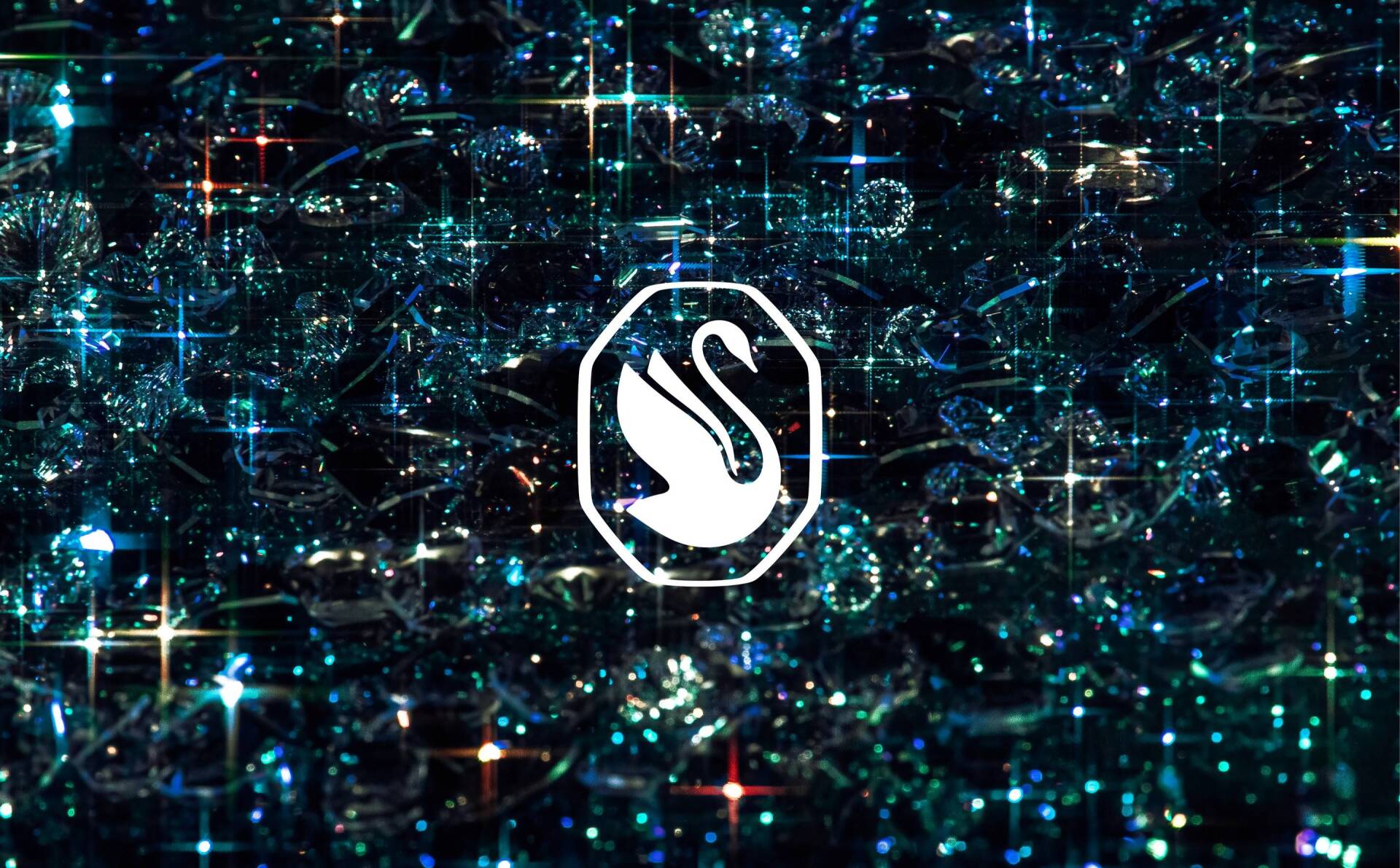 Photo: GENERAL IDEA
THE WONDERLAB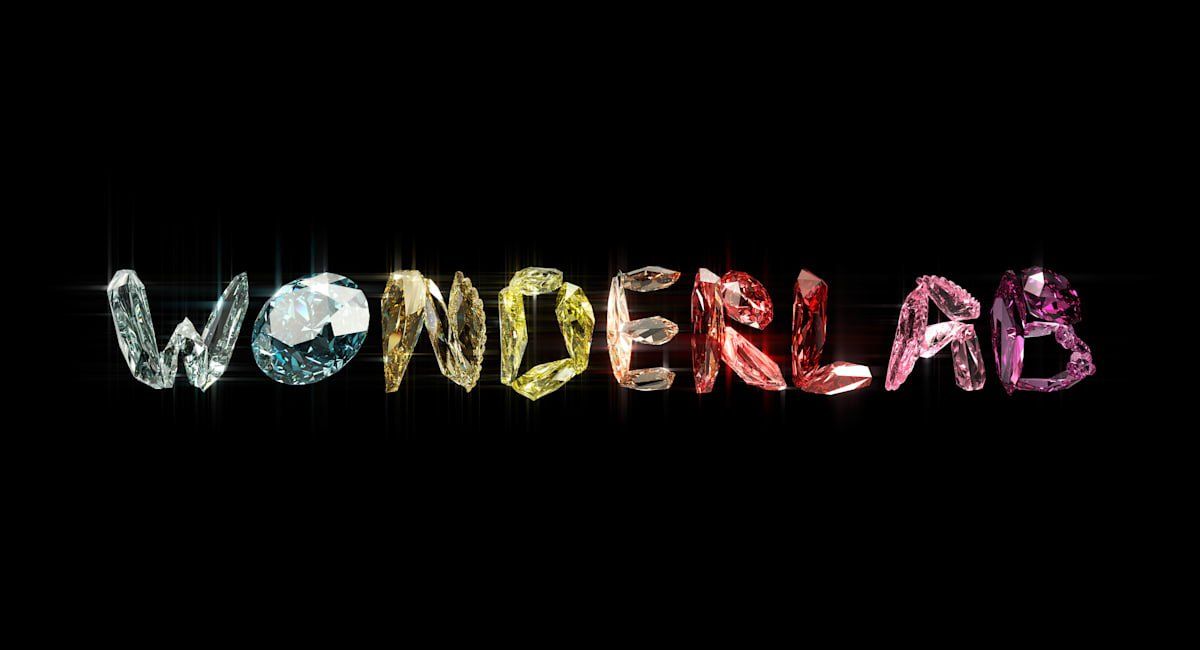 On General Idea's site, the "Wonderlab" is described as a place that "celebrates crystal in its most elemental form, as a doorway into the wonders of the imagination. A radically inclusive laboratory to Ignite Your Dreams." And it really does feel like a portal into Swarovski's new vision or – maybe just as important – its creative director's mind. The place where all of Swarovski's crystal creations come to life.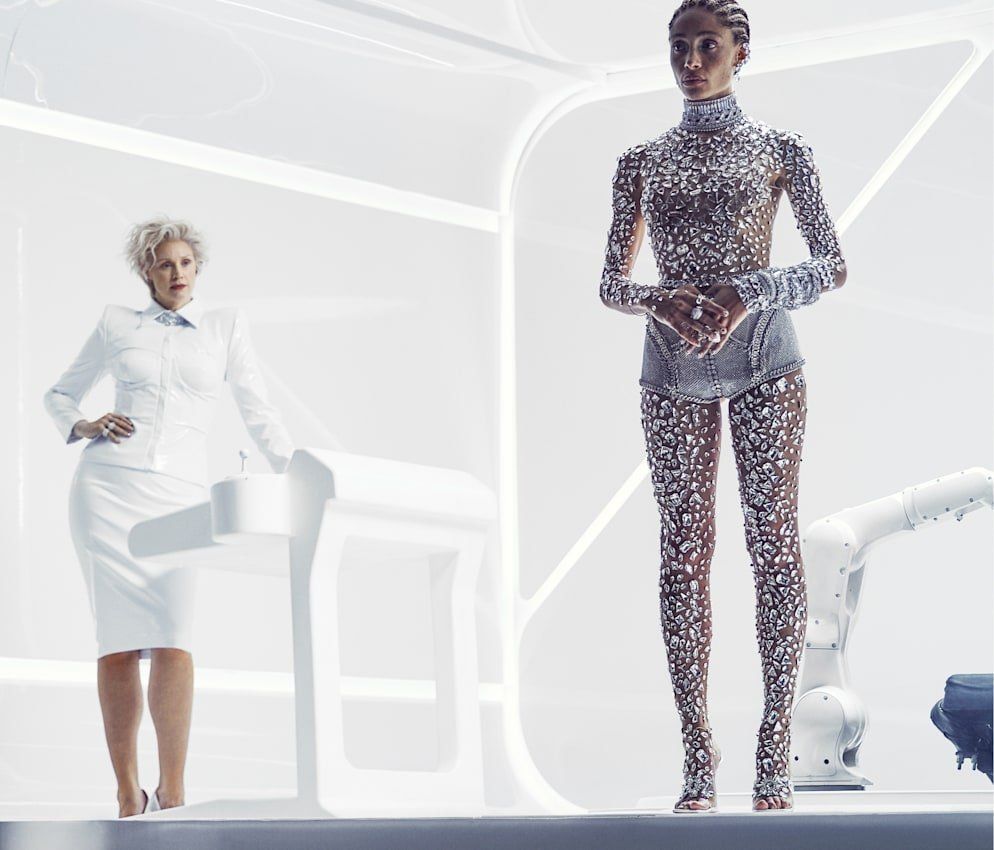 "The Wonderlab is where science and magic meet, where extra and elegance collide, it is a feeling of wonder that everyone should experience as we invite them into our new world at Swarovski," Giovanna added. Step in and take a look for yourself. Starring model Adwoah Aboah and a familiar, much-loved face from 'Game of Thrones,' Gwendoline Christie.
Photo: SWAROVSKI
THE COLLECTION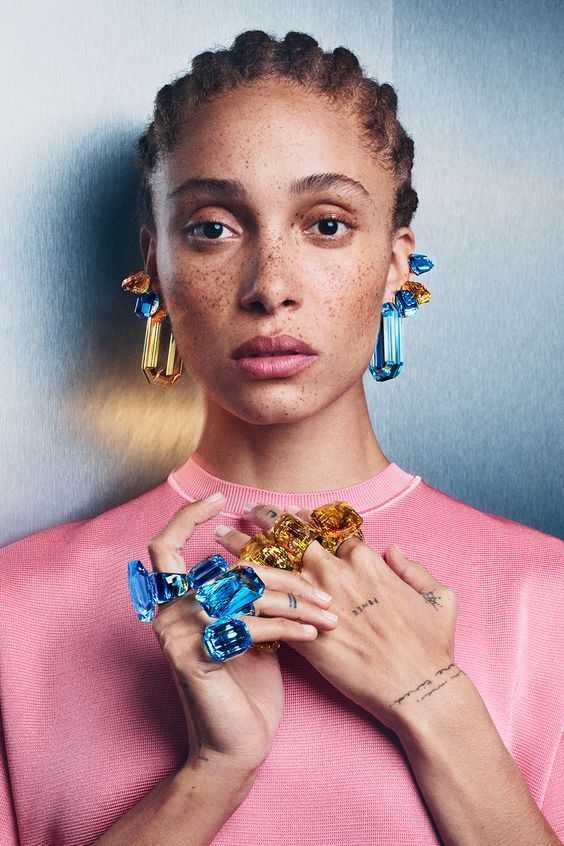 Clear from the film – and predictable considering Giovanna's own predilection for accessories – the collection represents a complete aesthetic overhaul. Since when were crystals so chic? So expensive looking? As characters in the film pop them into their mouths, drape them around their necks and wrists, and bedazzle their lips and faces, you get a little lost in the spectacle; head absolutely swimming in the variety of cuts and vibrant colors, another distinct contrast from Swarovski B.G. ("Before Gio"). Like being in a chocolate shop, at first the choices are overwhelming, but soon enough, your eye always finds your favorites. (Hello to the yellow and blue Lucent rings above…)
But when describing the Italian approach to accessorizing, one comment from Giovanna stuck with me: "It's in our DNA—we're [Italians] not afraid of mixing bizarre things together and putting a lot on—but craftsmanship speaks more to me than carats." CARATS. That's it, that's exactly what comes to mind. These crystals have been elevated to diamond status. Can we all just take a moment to recognize how product category shattering that is? And also consider – and lament – the status of every piece I loved: SOLD OUT. What is happening? When was the last time "Sold Out" ever appeared on swarovski.com?
That may very well speak to the insight of joy. It's the new Swarovski brand experience a la Giovanna, and it's palpable through every screen, at every touch point.
"To work with crystal is to work with lights; you can do so much with light and the prism of its colors," Giovanna said. "It's really endless possibilities with a material that is charged with emotions but above all, joy. It will always bring joy. And that's actually what keeps me going every day, to be honest with you."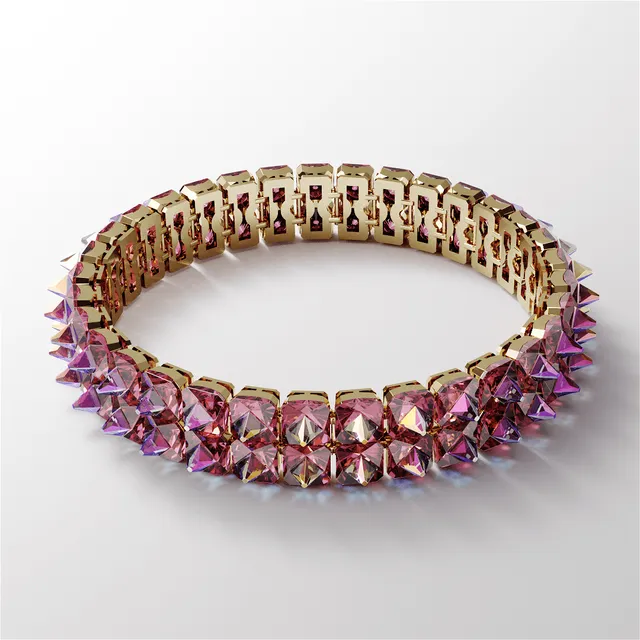 Photos: SWAROVSKI
PRINT CAMPAIGN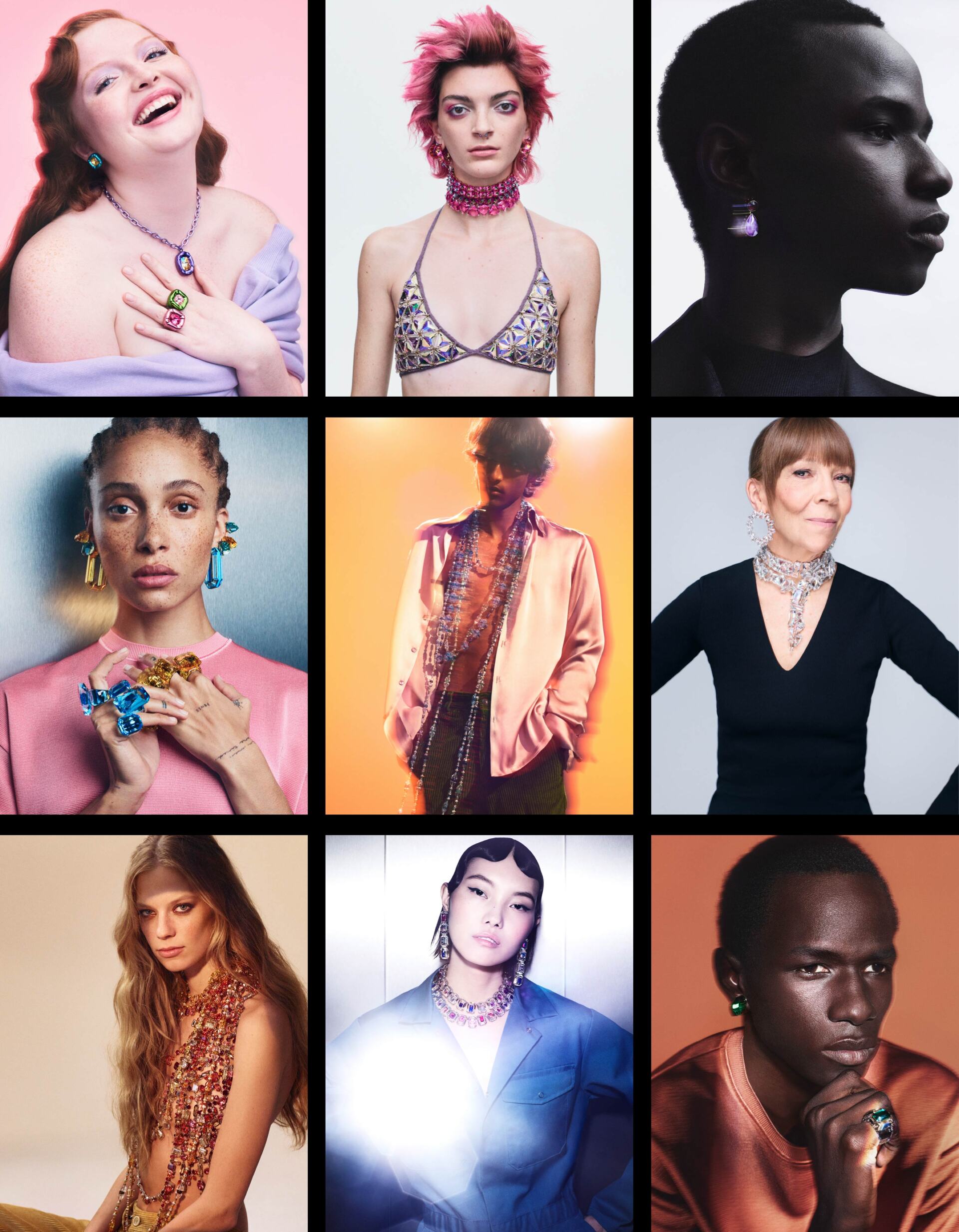 Photo: GENERAL IDEA
Speaking of Wonderlab as "a radically inclusive laboratory," the print campaign couldn't speak louder. Featuring a spectrum of ages and ethnicities, it's clear that the magic of crystals really does suit everyone. Above are some key cast members flaunting the sold out pieces. Viewer discretion is advised.
And more polished options with the campaign tagline: "IGNITE YOUR DREAMS."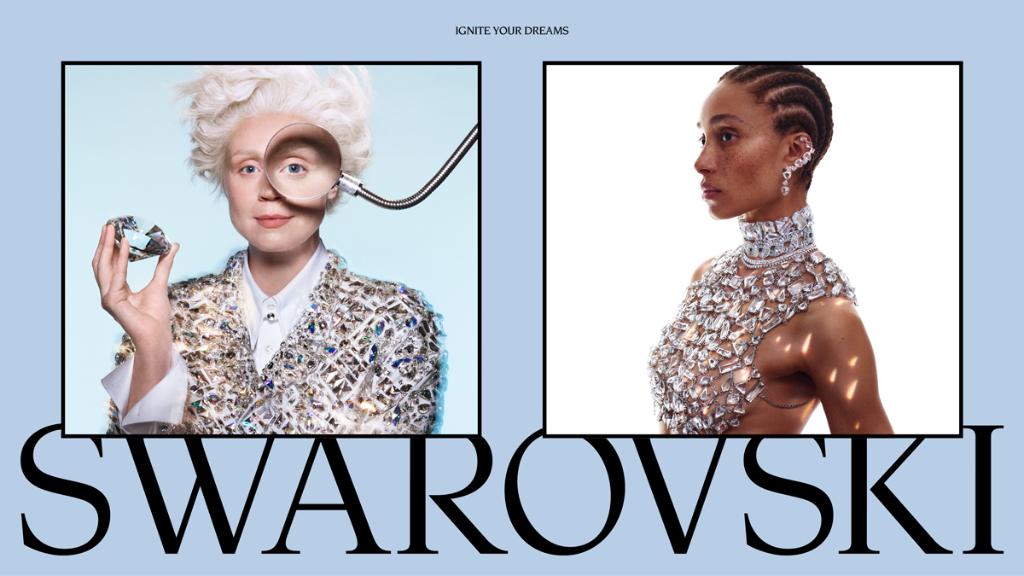 Photos: GENERAL IDEA
IN-STORE + PACKAGING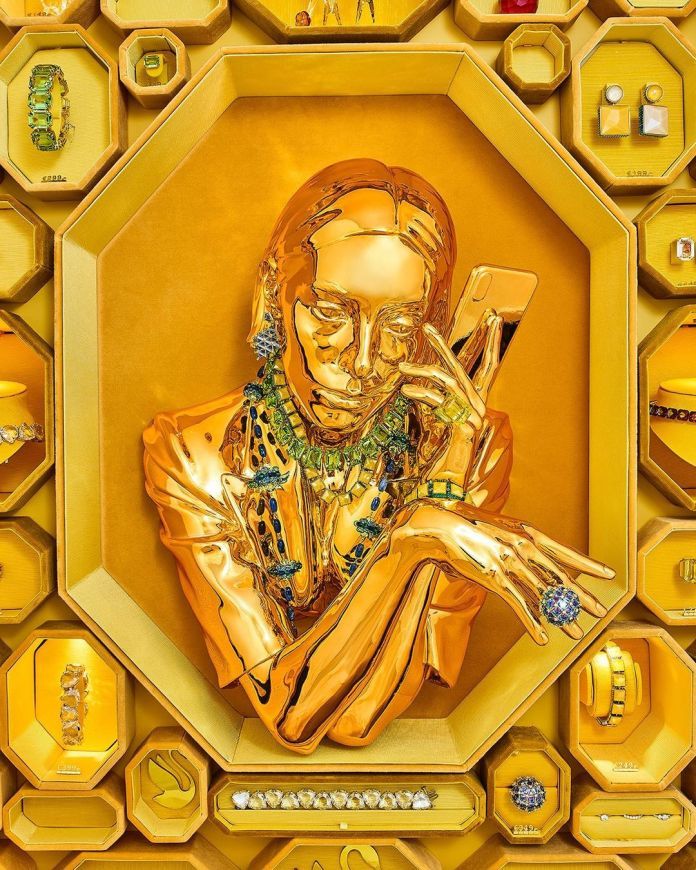 Now, to the shops.
THE SHOPS. 
The most dramatic way the Wonderlab comes to life in the material world? "One is the store [conceived by Engelbert] that is like an imaginary vault of the Wonderlab." While the in-store monochromatic concept called "Instant Wonder" was created to revive 30 stores globally, it only took me one peek at the updated Milan location (also Gio's hometown) to fully absorb the word "transformation," and to once again see Giovanna as the fairy godmother that she is. (Just look at her cape!)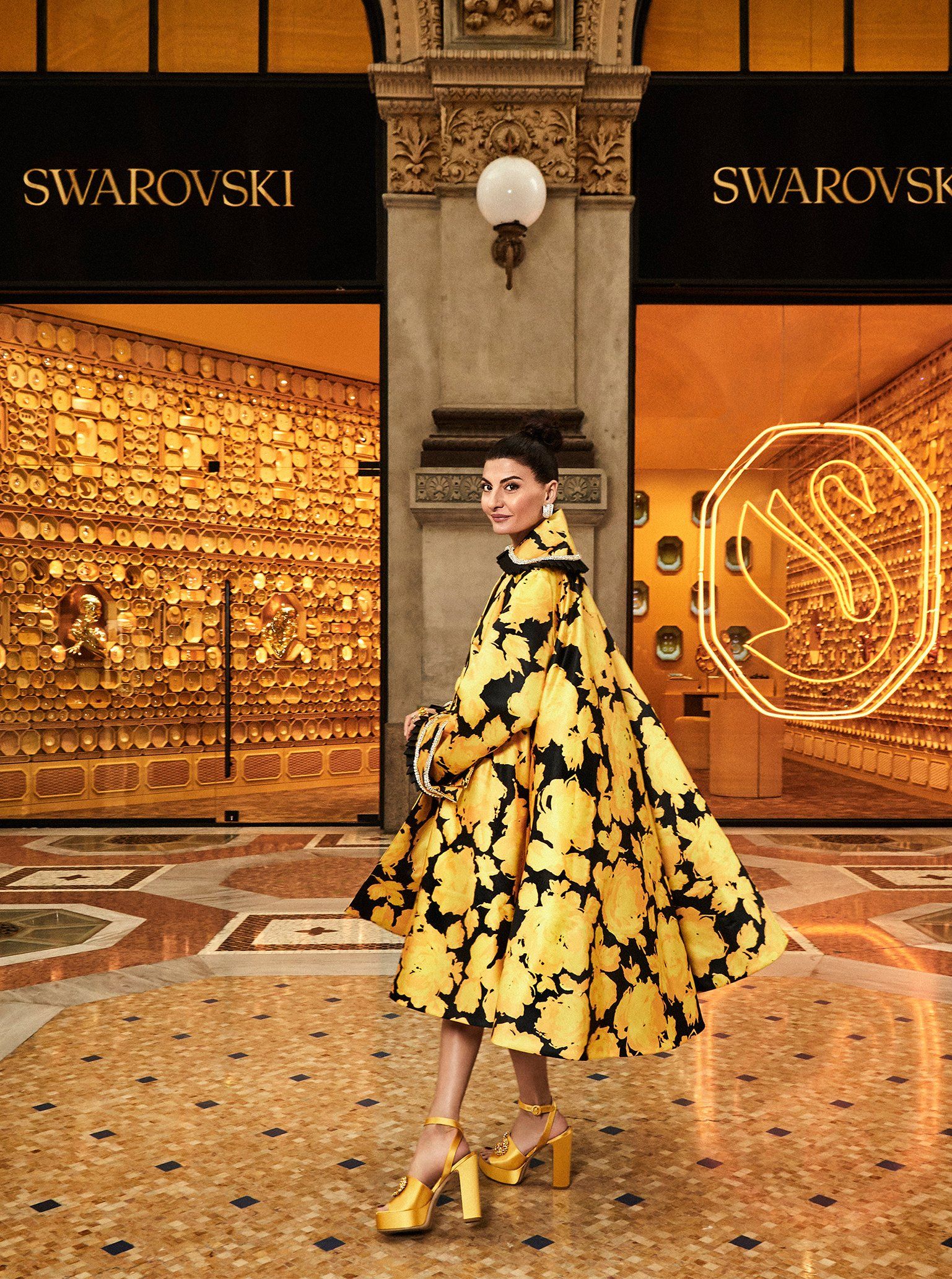 Photo: SWAROVSKI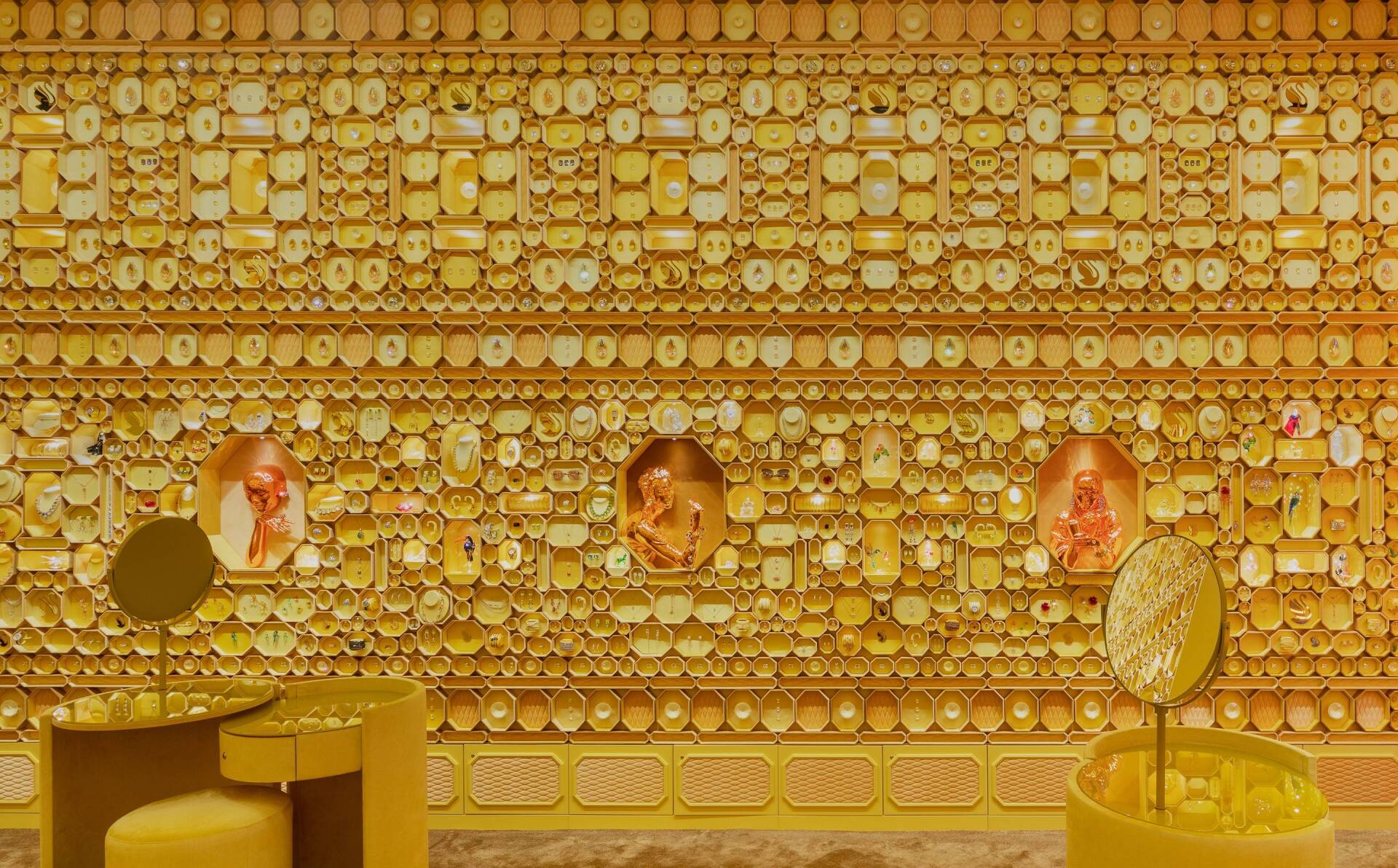 Photos: SWAROVSKI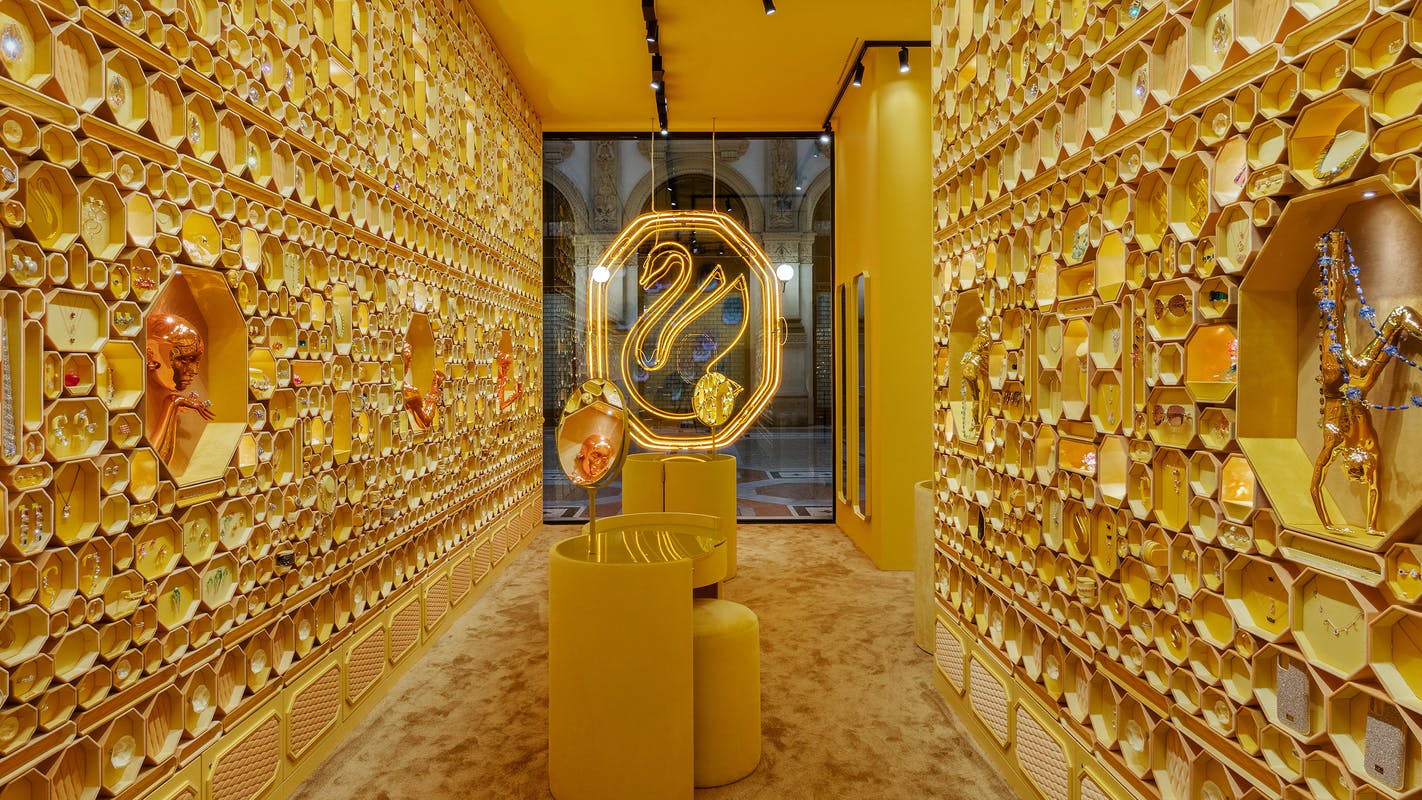 Photo: SWAROVSKI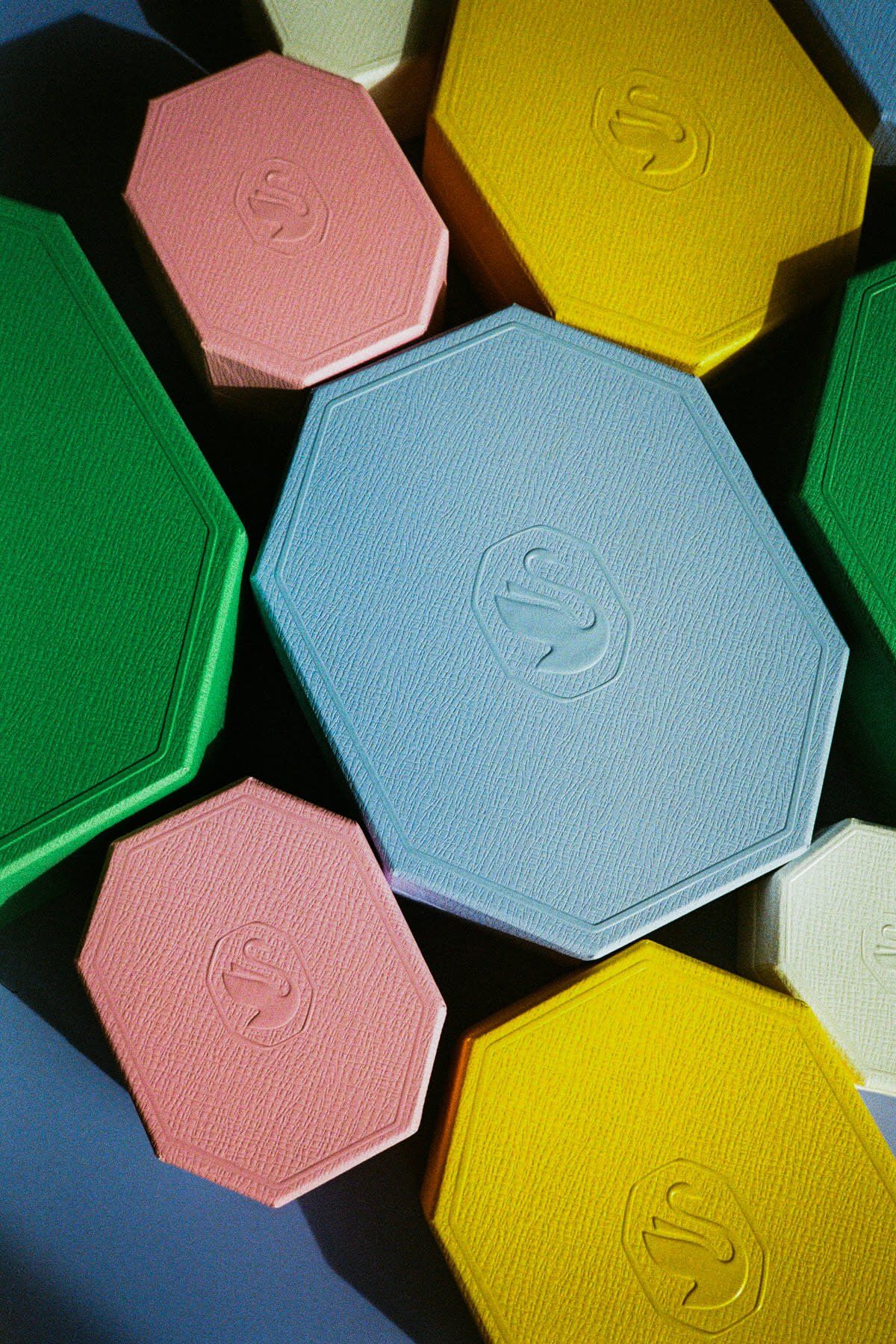 Photo: SWAROVSKI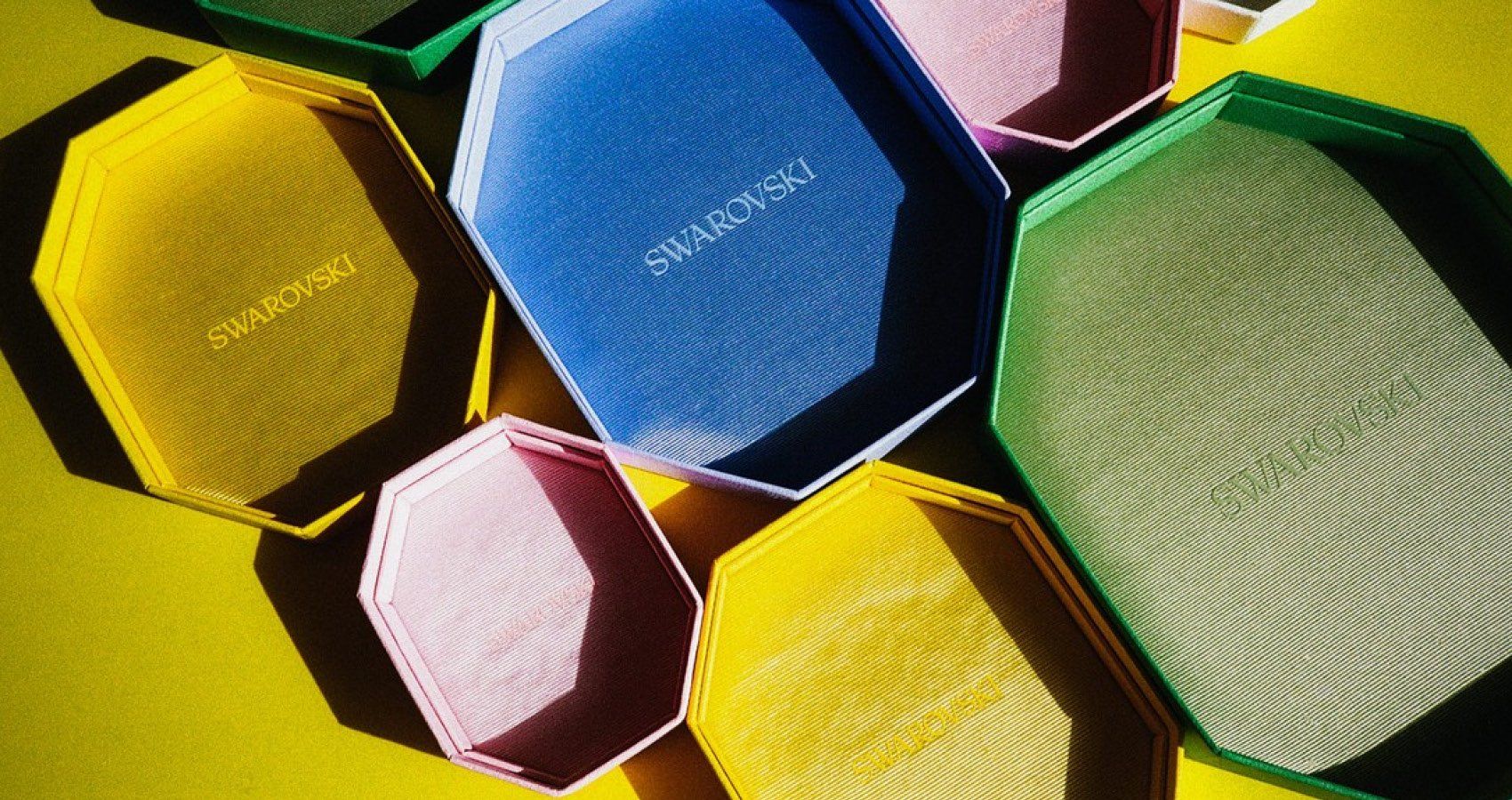 Photos: Fizzy Magazine
THE TAKEAWAY
This… is rebirth.
And while I'm completely aware that the majority of brands can't invest this type of money and resources into their own rebrand, they can all ask similar questions and follow similar principles. One of my favorite examples being: Instead of "sizing up the competition or trends, the Swarovski team asked 'What is the heritage of this business and where creatively can it go?'" No comparison with others, just the kind of self-knowledge that comes from studying a brand's history and DNA until you've gone as deep – as cellular – as you can. And that's where the magical becomes possible. Every brand- or campaign-altering insight comes from a deep knowledge of the product and consumer. And Giovanna was exactly the visionary to uncover them, shape them, and package them in an irresistible way for consumers and in an undeniably successful way for the business and brand.
In short, I take it allllll back. Swarovski hasn't actually dimmed Giovanna's light. Then, as now, she was simply the greatest and most valuable gem of all.
The post 'Extra' Meets Elegance: Swarovski's Latest Rebrand Brings Back the Sparkle appeared first on FUEL.