Convincing people to get away from the stress and schedules of everyday life should be simple—but in a saturated market of travel apps and countless choices of hotels, restaurants, and attractions, winning the hearts and minds of holiday-makers is no easy feat.
Today's travelers are savvy, and getting them to vote with their dollars means stepping up your game beyond just the best price point. Brands that hope to attract hospitality customers – and build loyalty to keep them coming back – must employ a surgical approach to marketing and advertising. The good news? There's no medical degree required; just a precision hospitality marketing strategy that's built on a few key elements. Start here:
Find your tribe: Get to know your audience first
They say if you're marketing to everyone, you're marketing to no one. And for travel and tourism businesses, that may ring truer than for any other industry.
Defining your audience is an absolutely crucial first step in a content marketing strategy—because if you don't know exactly who your customers are, you won't know where to find them, how to speak to them, how much money they're willing to spend… or what content to send them.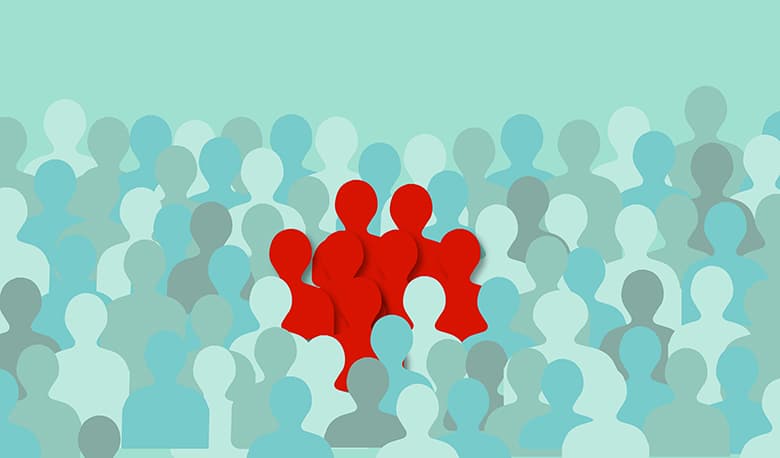 Sure, everyone wants to go on vacation, but what does "vacation" mean to them? A weekend away or a week? Bringing the kids or leaving them at home? Cocktail hours, fancy restaurants and nightlife, or curling up with a good book? Adventures in the great outdoors or shopping and luxury spa services?
Rest and relaxation is not one-size-fits-all, so to figure out who your target market is, first take account of factors like:
Geography & weather – When is the best time of year to visit your business and what should guests be prepared to bring along?
Travel requirements – Would your target market drive or fly to your destination?
Accessibility – What level of physical fitness or ability is required to safely enjoy your facilities?
Local cost of living – How affordable or expensive is your destination as compared to national or international averages?
Breadth of activities – Is your offering family-friendly or more suited for couples and solo travelers?
A comprehensive destination marketing strategy from the experts at FUEL can help you determine how these factors will play into defining your target audience. And once you know who they are, it's time to figure out what makes them tick.
Analyze this: Find and follow your buyer personas
With an audience defined, you're one step closer to launching super-targeted marketing efforts for your hospitality and tourism business. The next step is to put that audience under a microscope—and the more you know about them, the better.
Through demographic research, you can draw data about where and how this type of audience lives, what their household income is, their education level and if they have children.
The US census is a great place to start demographic analysis, where anyone can find filterable references and visualization maps that provide geographical stats on age, sex, housing, marital status, Internet usage, income, education, and more.
To get even more precise information about where to find your ideal customer, many brands and businesses couple demographic feedback with surveys. Adding a survey to your website, social media profiles, and email blasts can help you gather information to make your marketing even more precise and personal.
For the sake of this exercise, let's say your analysis determines that your target guests are young, affluent, child-free couples who are looking for drivable weekend getaways to escape high-stress careers. They live within four hours of your destination and are willing to spend up to $1,500 on a three-day trip. This is what is known as your "buyer persona," or a fictional representation of your target audience. You may even want to give them a name.
According to Hootsuite: "You want to think about and speak about this model customer as if they were a real person. This will allow you to craft marketing messages targeted specifically to them. Keeping your buyer persona (or personas) in mind keeps the voice and direction of everything consistent, from product development to your brand voice to the social channels you use."
Creating nuanced buyer personas is central to any brand-building strategy. Find out how the travel and tourism marketing experts at FUEL can help you define your target market. Once you've done that, it's time to engage them.
Keep it simple: Your content has 10 seconds to win, lose, or draw
Chances are your target audience is being bombarded with ads all day every day; on television, streaming services, social media apps, the radio, billboards, and the myriad other places you absorb content without even knowing it. In fact, it's estimated that we see anywhere from four to 10,000 ads every day—but notice far fewer.
According to the Pragmatic Institute, the general rule is that marketers have about 10 seconds to gain or lose their audience's attention. They also note that, "As marketers looking to capture potential customers' attention, we must minimize the time we take to explain the value our products provide."
Knowing that time is of the essence, it's critical that hospitality and tourism brands quickly highlight the features and amenities their buyer persona will care about most across marketing channels. You may hear this approach referred to as "digestible content," which simply means creating marketing and advertising content that's easy for your target market to savor and swallow.
Here are a few ways to make your content more digestible:
Use bullet points – This trick works in both long- and short-form content to highlight the most important information. Your reader's eye will be drawn to what it can consume the fastest, whether it appears on social media, a digital ad, or a blog post. Easy to read = easy to remember.
Separate topics with headlines – Create skimmable reading structure with headlines throughout your content, so readers can skip around to find the information they're most interested in. Plus, search engines love the hierarchy that headlines provide, which will boost your SEO and overall traffic. The more organized your content, the more it will appeal to search engines – and your buyer persona.
Provide a clear call to action (CTA) – Ensure your audience knows what to do next and can easily complete that step. Think about using buttons that allow them to "book now," "reserve a table," or "save a spot."
Create a sense of urgency – A little FOMO goes a long way, especially when it comes to travel and tourism. No one wants to miss out on the experience of a lifetime, so incorporating language like "book soon to get this special offer" gives your buyer persona a reason to take action now.
See how FUEL can help your brand build a content strategy that connects you to your target audience.
Keep it real: Authentic beats perfect every day of the week
These days, it's hard to trust anything you see online. Deep fakes, filter-mania, airbrushing, and unreal photo editing abilities have left consumers suspicious that what they see isn't really what they'll get. No one wants to show up on vacation feeling duped, especially in the case of our buyer persona—whose precious time away from work is on the line.
To combat this disbelief and ensure your buyer persona trusts what you're promising them is real, brand authenticity – the belief that a brand is genuine when it comes to values, customer promises, and its products and services – is key.
According to Forbes: Not only do 90% of customers report that authenticity is an important factor in deciding which brands they like, but Millennials and Gen Z (almost 140 million people) now prefer brands that are "real and organic" as opposed to "perfect and well-packaged."
And according to Latana, one study showed that 94% of respondents will stay loyal to a transparent brand, and approximately 75% of these same customers are happy to pay more for products or services from a brand they believe to be genuine.
That doesn't mean you can't retouch photos for social media or hype up the most exciting aspects of your business, but it does mean giving your guests a reason to believe what you say is true. Here's how to make your brand more authentic:
Communicate your "why" – Be clear about who you are and what your brand stands for. What's your mission? Your vision? Your reason for being? When customers (and your employees) know your "why," they're more likely to support it.
Always lead with transparency – Being honest with your customers builds relationships and begets loyalty. According to Sprout Social, brands with a history of transparency win second chances from nearly nine in 10 people after a bad experience.
Create a culture of credibility – Being believable comes from bearing it all. Over-edited photography, removing negative reviews, and overpromising on your brand experience are all red flags to consumers searching for authenticity.
When you boil it down, empathy is at the heart of good hospitality marketing and advertising—just as it's at the heart of the industry. Getting to know who your customers are, putting them first, and building honest relationships with them will lead to better experiences for them and brand growth for you.
Define your hospitality marketing KPIs, attract the right customers, and ignite your brand's full potential with a customized tourism marketing strategy from FUEL.