We all get a little creeped out when ads pop up on our Facebook feed for air fryers after discussing how we want one for Christmas over Thanksgiving dinner. Or how Google knows what we want to search for before we even type the second letter in the search bar. So, why is it that we get so excited when Spotify Wrapped comes out showing us down to the minute what music and podcasts we listened to over the past twelve months?

For many, it has become the official kick-off to the holiday season. This much-anticipated gift from Spotify released the first week of December is a compilation of our favorite songs, listening minutes, genres, and all kinds of other stats in a fun, shareable format.

Spotify makes tracking our every move on their platform, well, fun. This two-part marketing campaign – one highlights music worldwide trends based on its millions of subscribers and poking fun at some of these trends, and the second part serves up an ultra-personal annual recap for Spotify subscribers – demonstrates the platform's efforts to continue to evolve to provide value and entertainment while boosting its engagement and attracting more subscribers. According to The Hustle, Wrapped is a growth hack for the streaming platform. In 2020, more than 90 million people engaged with Spotify Wrapped, and its popularity is expected to grow this year as the social buzz continues since its release on December 1.
FUEL Spotify junkies were in on the fun, and, boy, did we listen to some music this year! Don't judge… we're still working remotely!
If we took the top song from each of our FUEL Spotify junkies, this would be our playlist:
"Aniron" by Enya
"For All You Give (feat. Lucy Rose)" by Paper Kites, Lucy Rose
"Awake" by Tycho
"Semi-Charmed Life" by Third Eye Blind
"Easy (with Kacey Musgraves feat. Mark Ronson)" by Troye Sivan, Kacey Musgraves, Mark Ronson
"Heat Waves" by Glass Animals
"Roo" by Chance the Rapper, Taylor Bennett, CocoRosie
"BUZZCUT (feat. Danny Brown)" by BROCKHAMPTON, Danny Brown
"I Love You" by Woodkid
"champagne problems" by Taylor Swift
"Light On" by Maggie Rogers
"Ships in the Night" by May Kearney
And which of the FUEL team listens to the most beats while cranking out marketing genius?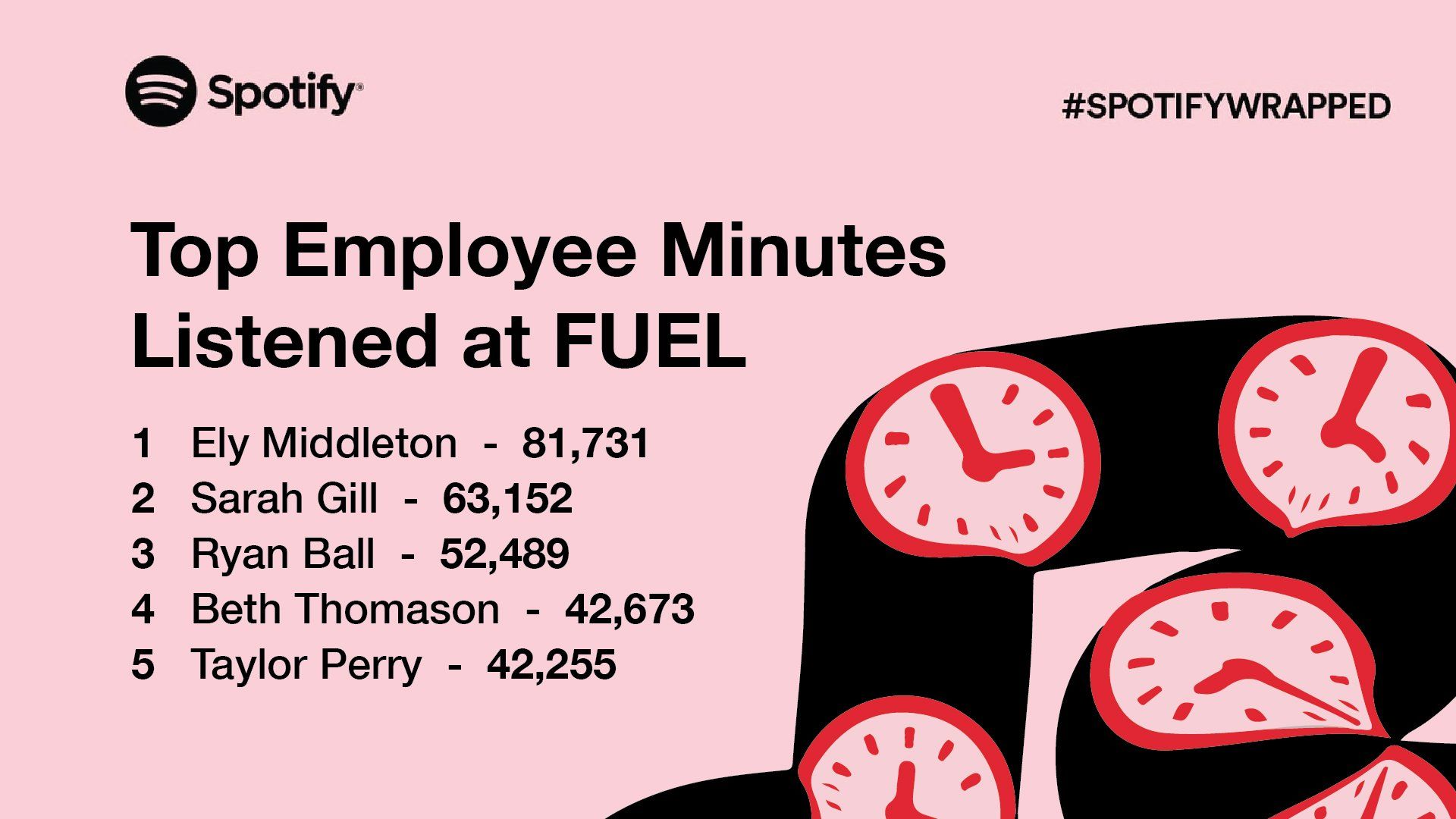 In case you're interested in some of the global trends:
Top 5 most-streamed artists globally
Bad Bunny
Taylor Swift
BTS
Drake
Justin Bieber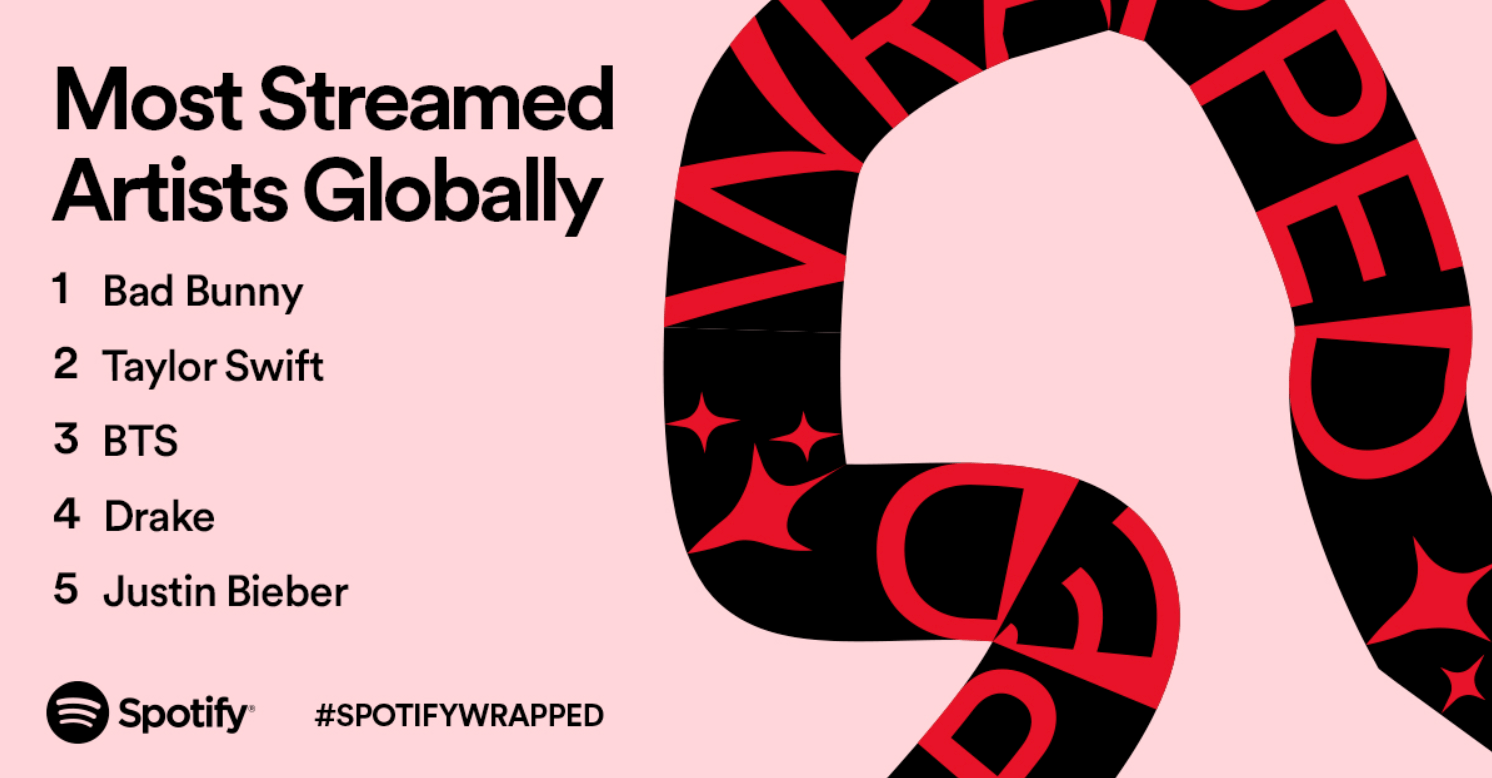 Top 5 Most Streamed Songs Globally
"drivers license" by Olivia Rodrigo
"MONTERO (Call Me By Your Name)" by Lil Nas X
"STAY (with Justin Bieber)" by The Kid LAROI
"good 4 u" by Olivia Rodrigo
"Levitating (feat. DaBaby)" by Dua Lipa
So, were you surprised at your top streamed song and the number of minutes you spent humming to your favorite tunes this year?